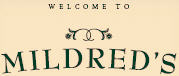 LUNCH IS SERVED EVERY WEDNESDAY
AND EVERY SUNDAY FROM 10:45 AM UNTIL 1:30 PM
YOU ARE INVITED TO JOIN US FOR A
UNIQUE TASTE OF SOUTHERN HOSPITALITY.
DELICIOUS FRIED CHICKEN EVERY WEDNESDAY
(Fried chicken, 3 vegetables, banana pudding, rolls/fried cornbread, tea/coffee/water)
SUNDAY BUFFET
(1 meat, 4 vegetables, assorted salads and desserts, rolls/fried cornbread/, tea/coffee/water).
Fried chicken will be served the first Sunday of each month.
Takeout orders welcome. Call ahead 334-791-1456
Available for wedding receptions, rehearsal dinners,
private parties,
and tea parties by reservation.
Full off premises catering service available
Private Dinner Parties by Reservation
Reservations accepted 334-791-1456
Major credit cards accepted.
Please call ahead hours subject to change.
Parking in rear and across N. Alice Street